The U.S. Postal Service is commemorating George Morrison, a key figure in Native American and modern art, with Forever stamps showcasing his work. Feven Gerezgiher reports
Family, art historians, and community members alike agree George Morrison was an underappreciated force in Native American art.
It's, in part, why the U.S. Postal Service decided to commemorate his legacy by imprinting five of his works on Forever stamps.
"George Morrison is considered one of the nation's greatest modern artists and a founding figure in Native American modernism. He challenged the very idea of what Native American art should be, arguing that an artist's identity can exist independently from the nature of the art that he creates. That's one of the many reasons we chose to honor George Morrison. The postal service has a proud history of celebrating America's rich and varied heritage through its stamp program. We view stamps as miniature works of art themselves and each one is designed to educate and appeal to people around the world. And they do….," said USPS Executive Vice President Steve Monteith at a dedication ceremony in Grand Portage last Friday.
Born in 1919 on the Grand Portage Reservation, Morrison knew his calling as an artist from an early age, family say. He attended the Minneapolis College of Art in the 1940s and Art Students League in New York during the 50s before receiving a Fulbright to study in France. Morrison later taught at colleges like the Rhode Island School of Design before teaching American Indian studies and art at the University of Minnesota.
"In George's own words, quote, 'in this search for my own identity, I seek the power of the rock, the magic of the water, the religion of the tree, the color of the wind and the enigma of the horizon.'" said Hazel Belvo, artist and Morrison's former wife, sharing about Morrison's grounding in nature and Anishinaabe culture. She said the commemoration was fitting as he often relied on mail to maintain connections to home.
"He wrote to his mother twice a month all the years that I knew him until she died. He received and read the Moccasin Telegraph, whenever he was – wherever he was in the world and he never ever missed voting in his reservation elections by mail. In 1961, when our son was born in New York City, he immediately registered Briand with the Grand Portage Tribe…by U.S. mail," said Hazel as the crowd laughed.
The Forever stamps showcase Morrison's Horizon series. The landscape paintings depict Lake Superior and views from his home and studio in Grand Portage in colorful, abstract forms.
Kristin Makholm, art historian and co-author of the book Modern Spirit: The Art of George Morrison, interprets his work.
"An artist indicates the horizon with a line, but we don't actually see a line. We see a horizontal split between sky and water. The horizon is an optical illusion. It doesn't actually exist outside of what we see. George masterfully plumbs the depths of what we see, and with the simplest of artistic conventions aligned then shape-shifts everything around that. Through it, George shows how the natural world seen daily out his window at Red Rock is inextricably bound with the dual mysteries of how humans see and experience nature, and how we embrace and love this world through art."
The Heritage Center at the Grand Portage National Monument will hold an exhibit of George Morrison's work through September. The Johnson Heritage Post Art Gallery in Grand Marais is also hosting a display through May.
The sheets of twenty George Morrison commemorative stamps are available online through the USPS website. Store.USPS.com
Thank you to Matthew Baxley of Bear Witness Media for sharing audio from the dedication ceremony.
Feven Gerezgiher reporting for Minnesota Native News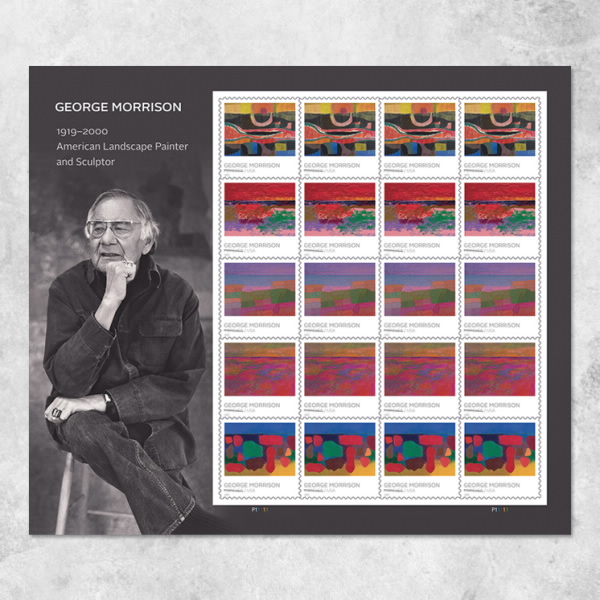 Subscribe to Minnesota Native News in your favorite podcast app