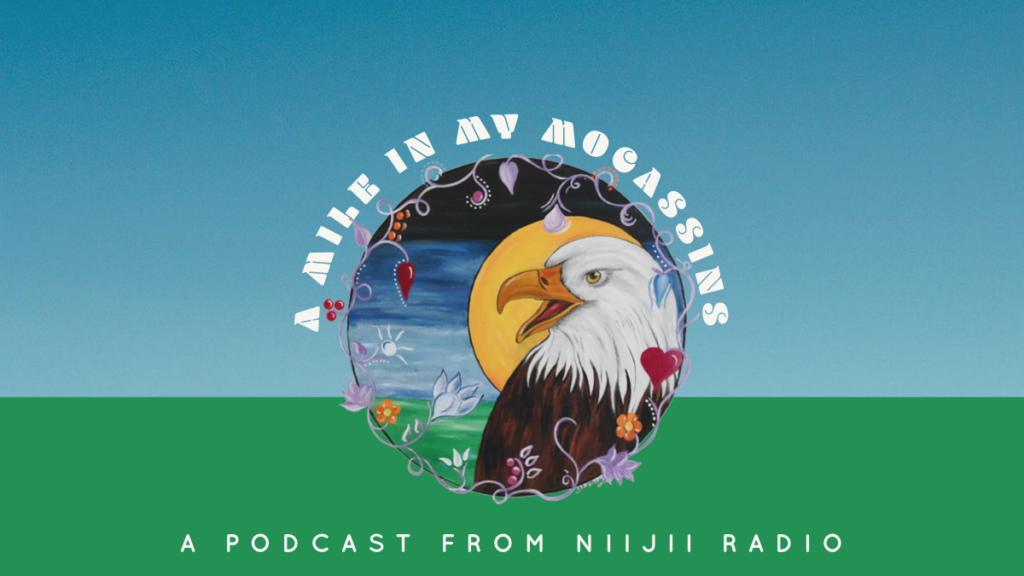 ---
A Mile in my Moccasins hosted by Melissa Townsend, a 12 part series on Niijii Radio serving the White Earth Nation.
Kayla Gordon, Jeep Roberts and Susan Beaulieu have started a journey — shaking loose from depression, addiction, and dissociation and walking with more laughter, lightness and love. They struggle with the same feelings many of us have, but this is the story of their work to heal. They are acknowledging the trauma that was passed down to them as children. It's a journey and we each get to decide when and how we move forward.
We all have our tough times, but serious trauma affects our minds, bodies and spirits. And each of us decides when we want to begin to peel back the layers of trauma and heal. In this series three Anishinaabeg begin their journey to health and healing. The lessons they learn along the way are gifts to everyone.
Chi Miigwech and thank you to Kayla Gordon, Jeep Roberts and Susan Beulieu, for sharing their stories, Kim Lage, KJ Henschel, Maggie Rousu, Leah Lemm and Erin Warhol for editorial contributions, and Dan Luke for some of the music in our series.
This programming is made possible through a grant to White Earth Land Recovery Project from the Minneapolis Foundation Catalyst Initiative and with support from AMPERS – Diverse Radio for Minnesota's Communities.
Subscribe to A Mile in My Moccasins
---
Episode 1: ACEs: Adverse Childhood Experiences
Jeep, Kayla and Susan realized how their Native families and communities don't talk about the hard things that have happened to them. And they decide they're going to change that. But it's risky.
Episode 2: Fight, Flight or Freeze
Kayla is relieved to learn that she struggles with depression and anxiety – not because she is crazy – but because of trauma from her childhood. And Susan can relate.
Episode 3: Jeep Learns about ACEs
Jeep shares about his early trauma and we realize that he recreated that chaos and trauma in his later life. But after getting sober and learning about ACEs — he's peeling back the layers of trauma and changing his life, and healing his body, mind and spirit. Lessons that will help his daughter and his grandkids.
Episode 4: Kayla Takes a Break
Kayla and Melissa are scheduled to have a few more interviews but Kayla doesn't make it to any of them. Melissa is worried that Kayla is triggered by the first conversation they had where Kayla talked about the devastating trauma she experienced as a child. Melissa thinks maybe she's hiding from the world, trying to comfort herself curled in a ball under the covers. But Melissa is wrong.
Episode 5: Soft Belly Meditation
Susan and Kayla talk about triggers – where they come from and the impact they have. They tell the story of how they learned meditation can help them keep their brains out of the "trauma time machine" – at least some of the time. And you get a chance to meditate along with us.
Episode 6: What Am I Passing On?
Since learning about ACEs, Jeep has been trying to make good decisions about how to raise his three grandchildren ages 10, 8 and 6. But in this call, Jeep realizes to care for them more fully, he needs to look at his own childhood trauma.
Episode 7: "I Love You"
Jeep grew up in a family that loved each other but never said the words. Now that he's taking care of his grandchildren, he's realized that just doesn't cut it with them. As hard as it is for a man to be vulnerable and emotional – Jeep is learning how.
Episode 8: Ruts in the Road
Kayla and Susan have struggled to be he supportive loving parents they wan to be when their kids show anger or upset. Through their work with ACEs they both realize – it's because anger and upset are triggering or more accurately — activate their nervous system's trauma response. So how can they handle the trigger so they can be the kind of parents they want to be?
Episode 9: Who You Gonna Call?
Kayla describes a low moment when she feels the weight of the grief and hopelessness of her ACEs. But the feeling doesn't last long because she has figured out how to recognize what's happening and reach out for support from people who love her. Kayla and her friend KJ tell us how she learned to do that. Surprisingly – it involves sushi in Fargo.
Episode 10: Blood Memory
After Susan gives a presentation to medical students about historical trauma and Adverse Childhood Experiences (ACEs) I wonder – why do doctors need to know about this stuff? Susan says indigenous knowledge and western science both acknowledge the physical impacts of emotional and spiritual wounds. So how and when will the medical community catch on to both indigenous wisdom and western research?
Episode 11: Moving Through Grief
Susan is dealing with a new level of grief after her father dies. It's an invitation to work more deeply on generational grief that's been pass down as a trauma.
Episode 12: There is No Map
Susan is dealing with a new level of grief after her father dies. It's an invitation to work more deeply on generational grief that's been pass down as a trauma.
Subscribe to A Mile in My Moccasins
---
Resources to assist with strategies to heal from, and understand, historical trauma and ACEs — adverse childhood experiences or traumas that happen when we're young.
---
General ACEs resources:
U.S. Centers for Disease Control ACEs Webpages
PACEs Connection – Positive and Adverse Childhood Experiences with updated ACEs information and resources
Information on the original ACEs Study by the CDC and Kaiser

ACEs too High – a website with updated ACEs information and resources

The ACEs ScoreCard – The most important thing to remember is that the ACE score is meant as a guideline: If you experienced other types of toxic stress over months or years, then those would likely increase your risk of health consequences, depending on the positive childhood experiences you had.
ACEs and Racism — There is more to the scorecard
Minnesota ACEs resources: