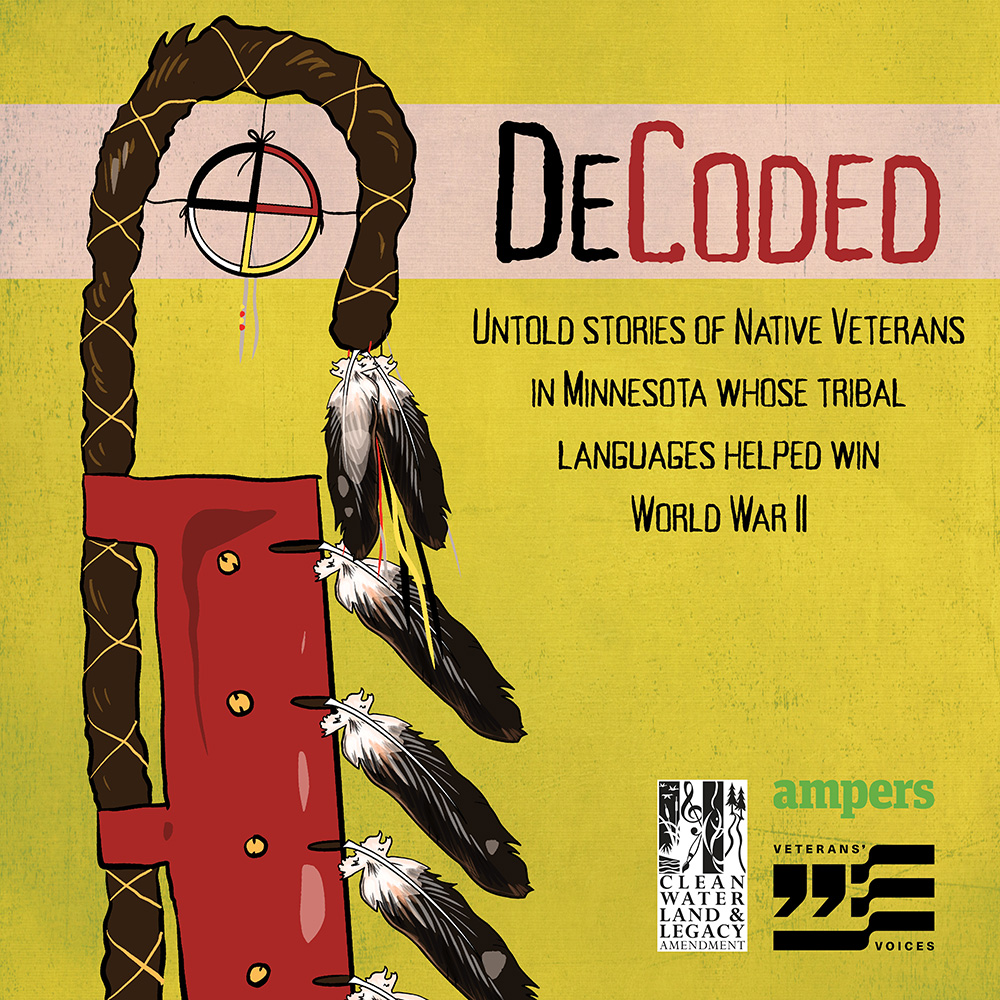 This week on Minnesota Native News, we have a new documentary in an Ampers series to tell you about. Decoded is about Native veterans from Minnesota who used tribal languages to help win World War II.
De-Coded is hosted by Travis Zimmerman. He's site manager at the Mille Lacs Indian Museum and Trading Post. He's from Grand Portage, from a long line of veterans, and he's a veteran himself.
Here's Travis, in an excerpt from the documentary.
Travis Zimmerman: The first native code talkers fought in World War One. They used Choctaw to transmit radio messages from the battlefield in France. In World War Two, the Marines developed a program using Navajo code talkers, for communicating secrets in the fight against Japan. 29 Navajo Marines invented the code. Some of them were asked to go back to the reservation and find more men that were willing to enlist. Albert Smith was one of those recruits.

Albert Smith: We didn't have a term for hand grenade. So we developed that and called it potato. And when we're talking about the planes, in our code, we'd be talking about the birds and we're talking about the ships, we'd be talking about fishes
There were Ojibwe and Dakota code-talkers too, from tribes in Minnesota.
Lex Porter enlisted the day after Pearl Harbor, along with many other men from Grand Portage.
This is Lex Porter's grandson, Freedom Porter.
Lex is my paternal, my paternal grandfather. He passed away when I was what 11 or 12. So I don't remember much. But he was always grandpa. The last memory I have of him, I ran into him at the Mille Lacs pow wow, From what I learned about my uncle, He wanted to preserve our language, our histories, our stories, I don't remember much about what what he did to do as far as preservation but I remember that the stories he would try to teach me and how he would try to talk Ojibwe to me so I I knew it was important. He was trying to teach.
In 2013, Congress invited tribal leaders and veterans' relatives to a ceremony to recognize Native code-talkers. By then, only a handful of veterans were still alive to receive their medals in person. But Freedom received a bronze replica:
Freedom: The front design is of a Native American radio operator. And the front is the Fond du Lac emblem. My daughter takes it to school every Veterans Day. When we first got this she called it the big quarter. She understands now what it is, but the name stuck "I'm taking the big quarter to show my friends" is
what she says every vets Veterans Day,"
De-Coded also tells the story of another veteran. Reuben St. Clair from Lower Sioux. This is Reuben's niece, Darlene St. Clair:
Darlene: He used Dakota language to communicate with other Dakota speakers, while in Germany and France. because the old chatty shack homey is pretty large, as a confederation of people.. And so I think that we don't even know all of the code talkers that are out there. Because I would imagine, once they figured out that this person spoke this language, and somebody else understood that language, they took advantage of that. So I think the the numbers of actual code talkers, I don't think we even know. It would only be the stories of those veterans of what they shared. And I don't know that they always shared this.
We are grateful to Reuben St. Clair and Lex Porter for their service. And we're glad that their relatives are helping tell the code-talker story.

Documentary special thanks: Gary Robinson at Tribal Eye Productions, Travis Zimmerman, Freedom Porter, Darlene St. Clair, Moira Villiard, Laurie Stern, and Allison Waukau

Listen to the whole documentary
Subscribe to Minnesota Native News in your favorite podcast app