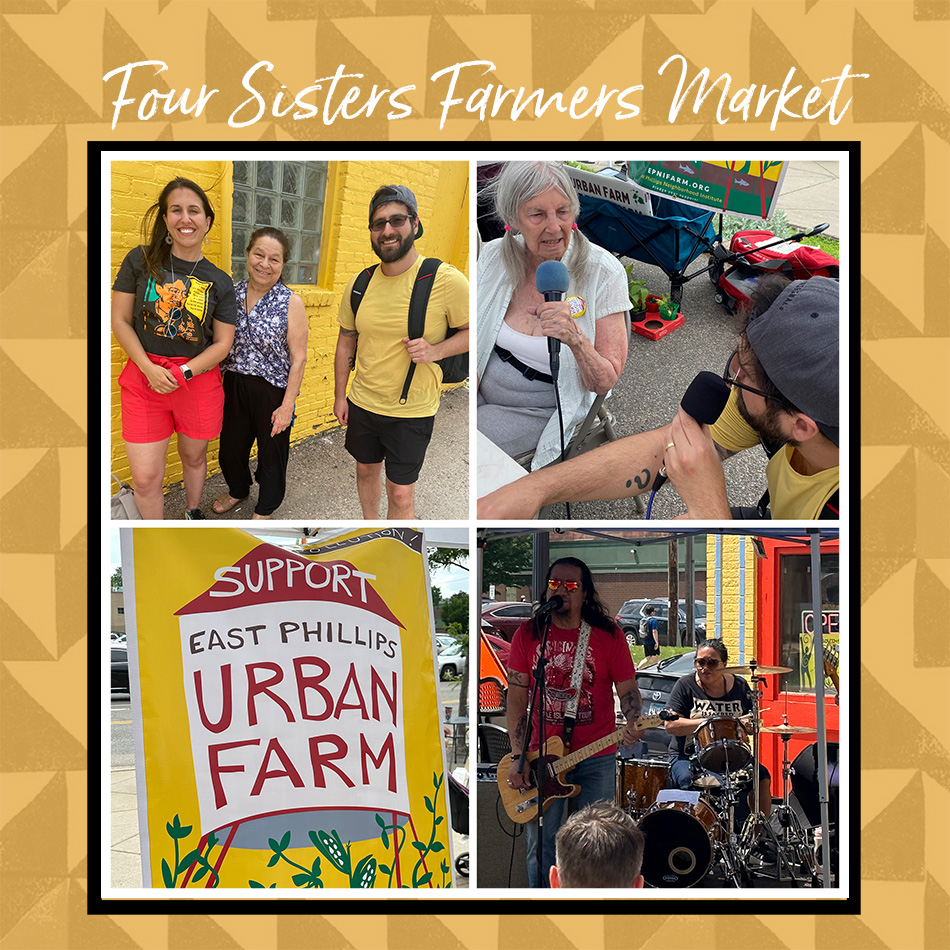 This week we take a visit to the Four Sisters Farmers Market in Minneapolis for a taste of community well-being that happens each Thursday during the Summer. Native Lights host and MN Native News reporter Cole Premo has the story.
On Thursdays during the summer and fall the Native American Community Development Institute transforms its humble parking lot into a hub for community gathering, food distribution and knowledge sharing. It's located at the corner of Franklin Ave and 15th Ave in Minneapolis within the American Indian Cultural Corridor. Myself and Native Lights co-host Leah Lemm took a trip to the first market of the year in June.

The market started almost a decade ago and the market's current manager Destiny Jones says it began when the Phillips community was a food desert and lacked grocery options

"It was a chance to kind of create a space for indigenous vendors, as well as like farmers, and then also build equity in the neighborhood. For those who maybe don't know, we're located in the East Phillips neighborhood of South Minneapolis. And so there's a huge population density of indigenous Americans here" said Destiny Jones

Right between All My Relations Art Gallery, Powwow grounds and The Minneapolis American Indian Center the Market takes place from lunch time to mid afternoon on Thursdays. The market has big plans for the season aside from food venders, Destiny says there are plans to have a monthly artist in residents, live music and food demonstrations. This year is Destiny's first year as the manager and those extra things are a part of her plan to focus the market's efforts on community first.

"One of the goals that I had for this season is to kind of create a community space first, and then kind of a farmers market second. I thought that by building like community and power, we might have like a better chance at building that equity that we're looking for our vendors and building nutritional information and kind of creating a safe space for people to explore that as well at the market," she said.
Nature-inspired jewelry designer Lali Aguilar from Corn Silk Daughter makes the trip from Wisconsin to vend at Four Sisters
"I think this is my second year or two and a half years because I found it one year towards the very end. But I really like coming here because there are so many like-minded people. And everyone here has different products that will keep your interest and want to keep you going around and around and talking to the vendors and listening to their story too. We're all nature lovers so that so when you we can open that little vein up in you, your world won't be the same"

And prominent native poet, playwright, and author Marcie Rendon has sells books and other items at the market with her family.
"Yeah, my daughter is here. And she has different tinctures and different jellies and jams. And then my granddaughter, she has body products, you know, lotions, and different things like that. Then my other granddaughter has the honey. And then my other granddaughter has the dream catchers," said Marcie.
We spoke also spoke with Riviana Zeller who found their way to the market as the Farmer & Distribution coordinator for Dream of Wild Health.

"There's a huge variety in my role of what I do on a day to day, and also everything I do is in the community. And that is just like really life-giving for me, like, you know, sometimes I'm here at the market. Some days, I'm spending all day in the van driving around different restaurants to deliver. Some days, I'm out in the fields for eight hours, working with the plants really like hands in the dirt. Sometimes during youth programs, I get to work with the youth. It's like, I just get to do it all. And it like makes me happy."

Another new aspect of this year's market is the Four Sisters Urban Farm. A project NACDI is developing with Hennepin County to use vacant lots owned by the Hennepin County Rail Authority to develop an urban farm near the Midtown Greenway
"I look forward to seeing the ways that the market develops in tandem with the urban farm that we have. We've just kicked that off at the beginning of May. And so it was really amazing. It's really amazing to just meet with people and sort of try to create like these pathways to, you know, a better understanding of the natural world like more urban biodiversity in the neighborhood; trying to revitalize some of the American Indian cultural corridor. And also just commute creating, like green spaces for the community and safe spaces for the community explore, you know, getting to know one another, but also just like getting to know their food," said Destiny.
The market accepts EBT and has opportunities for people to expand their buying power with market bucks.

We talked with a whole lot more people at the Farmers Market and if you want to hear more listen to our complete episodes of Native Lights below

Cole Premo reporting for Minnesota Native News
More from Native Lights
Subscribe to Minnesota Native News in your favorite podcast app