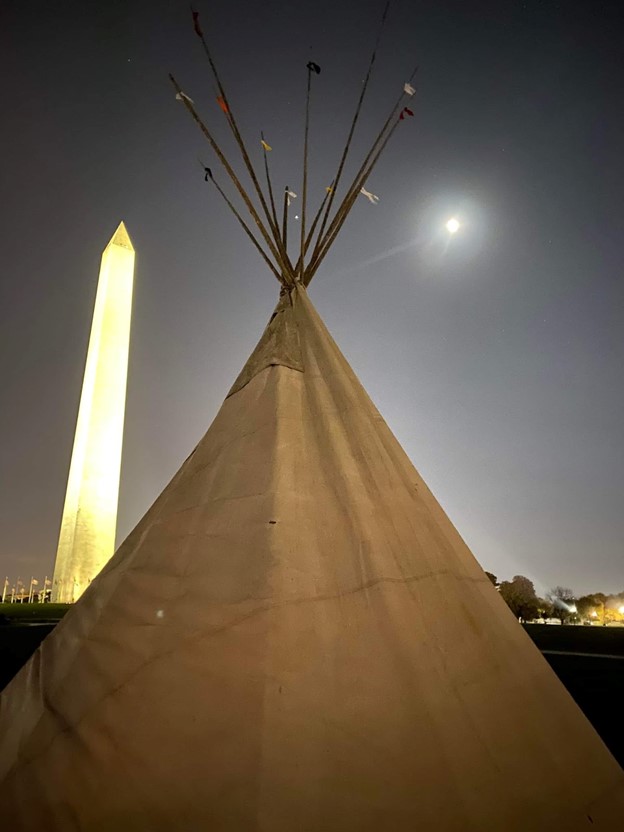 The US Supreme Court heard arguments in the case of ICWA or the Indian Child Welfare Act in early November. Reporter Emma Needham sheds light on this case and its implications as Indian country awaits a decision.
44 years after its enactment in 1978, oral arguments on the Indian Child Welfare Act in Brackeen V. Haaland, were heard at the US Supreme Court on November 9th, 2022.
The Indian Child Welfare Act was enacted in response to the long history and high numbers of native children that were being removed from their families by both public and private agencies and placed into non-Indian families, often for adoption. 
Laura Newton is the Family Services Program Director at the Minneapolis American Indian Center. She's been working in the field of Indian Child Welfare for 20 years. She explains why ICWA is important to all children, not just native children.
"ICWA really is the gold standard, as far as looking at what is in the best interest of children…that is really what the law is about; protecting the children and making sure that they're able to stay amongst their family and the tribe and maintain cultural connections. I think that those things are equally as important in other communities and cultures," Newton said.
ICWA created minimum standards for removing Native American children from their families and established a preference so that when Native American children are taken from their homes, they are placed with extended family members or with other Native families, even if the families are not relatives. Opponents argue that ICWA exceeds Congress' power over Native peoples, violates states' rights, and imposes unconstitutional race-based classifications.
"The big piece of this is, from the tribe standpoint, is that it isn't a race-based law, it is specifically put in place to protect the tribe and the tribes' children and to ensure that…they have a future to continue, and that is based on tribal sovereignty and more of a political status and not a not a race status," said Newton.
Seven individual plaintiffs are challenging ICWA, including three non-Native couples who tried to adopt children with Native American ancestry.
One of those couples is from Minnesota. In their case, the grandmother of the child they had in their care and intended to adopt had been advocating for ICWA procedures to be followed since the child was removed from the care of her parents. A Minnesota court ruled that the child be placed with her grandmother. Laura Newton says if ICWA is followed, those types of cases are unlikely.
"When the law isn't followed, that's when some of those placements end up happening. And then it becomes difficult because you've got two different family members basically fighting over a child. But I think by and large, those things wouldn't happen if the law was followed in the first place. And children were placed, not in a shelter foster home with a non-Native family, but placed with a relative, like they're supposed to be under by law," said Newton.
Another concern is that if the Supreme Court strikes down ICWA it will a set legal precedence for other laws intended to benefit Native Americans to be overturned. That could affect health care, environmental rights, and even the religious liberties of indigenous tribes throughout the nation.
"These cases are really attacking that piece, which is tribal sovereignty. If that is to be changed, or limited or goes away…for some individuals or corporations that would be beneficial because it would allow those people to have access to tribal resources that they don't have right now," said Newton.
Despite the advances achieved since 1978, ICWA's protections are still needed. According to National Indian Child Welfare Association, Native families are four times more likely to have their children removed and placed in foster care than their White counterparts.
Some states have state-level protections for native children. Here in Minnesota, the Minnesota Indian Family Preservation Act (MIFPA) strengthens and expands the Indian Child Welfare Act. Laura Newton says she sees how important ICWA is in her role at the Minneapolis American Indian Center.
"The children that are in placements that are not with Native American families, just by and large, they are the ones that are coming to all of us asking for information on their culture, wanting to reconnect, feeling kind of lost…adoptive parents are really having a hard time with them, because they are missing part of their identity…I've never seen a native child not search out that cultural connection, I just think that's so important. And that's why it was needed," said Newton.
This is a developing case. At this time, there is no known time frame for when the Supreme Court will make a decision on ICWA.
For more information on ICWA, and the supreme court case, please visit the National Indian Child Welfare Association online at NICWA.org.
Emma Needham reporting for Minnesota Native News
Subscribe to Minnesota Native News in your favorite podcast app
Revisiting the Four Sisters Market with MN Native News

This week on Minnesota Native News, we revisit a trip Native Lights hosts and MN Native News reporters Cole Premo and Leah Lemm took to the Four Sisters Farmers Market …

LandBack for Upper Sioux, Nibi Walk Finishes, and Ada Deer Walks On

This week, Dakota people in Minnesota celebrate a Land Back victory, the Lake Superior Nibi Walk wraps up, the school nurse for the Red Lake Nation School District receives an award for immunization efforts, and native nations all over mourn the passing of Ada Deer. MN Native News reporter Emma Needham has this week's headlines.