This week we share from an earlier recording on the outlook of the COVID-19 pandemic as understood by one healthcare professional. Here's reporter Feven Gerezgiher with that interview and the latest on COVID-19 vaccines.
U.S. health officials recently approved a new COVID-19 vaccine option for adults, hoping it will appeal to people that have yet to receive a single dose.
This vaccine is called Novavax and it's used across Europe, as well as in Canada, Australia, South Korea and other countries.
Novavax is deemed a traditional option because it's a protein vaccine. Protein vaccines have been used for years to prevent other diseases, like hepatitis B and shingles.
Novavax vaccines are expected to be available in the next few weeks.
The Minnesota Department of Health still recommends getting tested if you have COVID symptoms or have had close contact with someone with COVID. It also recommends testing proactively – before attending large events or traveling.
Appointments and walk-ins are available at community testing sites. Those include sites in Duluth, Moorhead, Brooklyn Park, St. Paul, and the MSP Airport –- where people testing positive can receive a prescription for treatment at the same time.
Free at-home rapid test kits are available through both the state and federal government.
Previously on the Minnesota Native News Health Report, we connected with Antony Stately, CEO and President of the Native American Community Clinic, to hear how providers – and his family – have been faring throughout the pandemic.
Our conversation was in March…not long after the winter holidays when the Omicron variant of COVID-19 first spread like wildfire.
"What we've learned from this process is that, you know, just when we think we're in a safe place and we make the decision to go maskless and go back to Fourth of July parties, and get close and have motorcycle rallies that crisscross the country and those kinds of things," said Antony. "Just as we're doing that and thinking that it's safe to go back to the way life, quote unquote, used to be? That's exactly when we ended up getting hit by another wave of some type of variant." he said.
Antony said we're still ways out from getting ahead of coronaviruses, as they develop easily and rapidly into new strains and variants. He expects his clinic will continue to take precautions.
"We have lots of elders who are sort of the bedrock of our cultural knowledge in our community and so wanting to make sure we don't do things that will get them ill is important. We have a lot of people who are very sick with chronic diseases that make them very vulnerable to COVID-19 infection. So being a responsible relative in that space, as a provider and somebody who is important to that community, we have to operate professionally and also personally in ways that would make sure that we're not acquiring COVID-19 and then inadvertently passing it on. So we're taking strong steps to ensure that some of the COVID-19 policies that other spaces and places and jurisdictions, they're sort of kind of relaxing, we're not," said Antony.
Outside of the clinic, Antony takes a "calculated risk approach" to decisions about masking and social distancing, taking stock of infection rates — and choosing to be more precautious in places like a crowded grocery store.
"I just try to walk through the world personally as a family member and a member of the community kind of trying to just observe my surroundings and make good calculated risks based on history and intelligence and intuition. You know, use that intuitive mind that Creator gave you to make decisions. And I'm trying to also help my children to understand that process and why that's important to sort of kind of walk through the world right now that way. So you can relax, but not let your guard down necessarily." said Antony.
Feven Gerezgiher reporting for the Minnesota Native News Health Report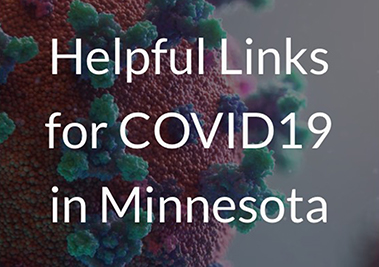 Subscribe to Minnesota Native News in your favorite podcast app