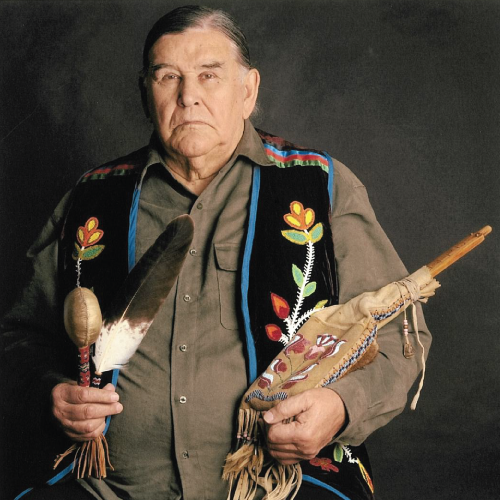 Native Lights is a weekly, half-hour radio program hosted by Mille Lacs Band of Ojibwe members and siblings, Leah Lemm and Cole Premo. Native Lights is a space for people in Native communities around Mni Sota Mkoce — a.k.a. Minnesota — to tell their stories about finding their gifts and sharing them with the community. 
Native Lights – Honoring the Life and Legacy AIM Co-Founder Clyde Bellecourt (1938-2022) – Part 2
This is the second part of our special edition show, honoring the life and legacy of NeeGawNwayWeeDun, The Thunder Before the Storm, who was known by his colonial name Clyde Bellecourt.  Clyde Bellecourt was a member of the White Earth Band of Ojibwe and was a long-time civil rights advocate and co-founded the American Indian Movement in 1968. Bellecourt passed away in Minneapolis on January 11th, 2022. He was 85. 
On today's show, we learn more about Clyde's time in prison as a young man, and how it strongly impacted him uncovered his purpose.  During that time of incarceration, Clyde Bellecourt met key people who helped him connect to Native traditions and spirituality, and together with whom he would co-found AIM.  This time of growth and healing informed every aspect of NeeGawNwayWeeDun's advocacy work, which he carried throughout his life.  
Chi miigwech to the folks who have shared their stories in these shows: Dr. Kate Beane Ph.D. (Flandreau Santee Dakota and Muskogee Creek), Dr. Brenda J. Child Ph.D. (Red Lake Nation), Dr. Antony Stately Ph.D. (Ojibwe and Oneida), Robert Pilot (Ho-Chunk Nation), Bob Rice (White Earth Nation), Steve Premo (Mille Lacs Band of Ojibwe), and Bob Blake (Red Lake Nation).  
Native Lights: Where Indigenous Voices Shine is produced by Minnesota Native News and Ampers, Diverse Radio for Minnesota's Communities with support from the Minnesota Arts and Cultural Heritage fund.
Subscribe to Native Lights wherever you get your podcasts
More from Native Lights