This week on Minnesota Native News Health Report, reporter Emma Needham talks with an M.D. about recommendations for COVID vaccines for our littlest relatives, and provides additional information on vaccine availability.
Vaccines against COVID were approved for children ages 6 months and older in June. However, we're seeing significantly lower rates of vaccination in our youngest eligible age group, those ages 6 months and older.
According to MN.Gov, 58% of the total Native Population in MN has already been vaccinated and 63% of the state's native children, ages 5 and up, have also received a vaccine. But only 1.2% of native children ages 1-4 in Minnesota are immunized against COVID 19.
I caught up with one doctor practicing in the metro area to talk about vaccines for our youngest relatives. Dr. April Coming Hay is a board-certified physician and an enrolled member in the 3 Affiliated Tribes of North Dakota.
EN: "How is it possible that they're coming out so quickly, but are yet the most studied? I know we're watching Science in real-time. But what would you say to a parent who had that question for you?"
"Well, I would say that a lot of the basics for vaccines are not new, per se. We have had mRNA vaccines for several years. And then also we are having the entire world collectively working on these vaccines. So they're they're not skipping any steps in the scientific process or in verification, certification, anything like that. they are following all these steps," said Dr. Coming Hay.
Children get a smaller dose of COVID-19 vaccine than teens and adults. Also, Overall COVID-19 Vaccine Dosage is based on a person's Age on the Day of Vaccination, Not their Size or Weight.
Dr. Coming Hay says just like anyone else, babies could get a fever or feel discomfort after the vaccine
"You know, with infants, it's a little bit harder to tell if they're feeling pain or if they're having a headache, but common side effects for infants, if they're going to have them, are going to be similar to any other vaccination that they receive. Sometimes they might have a fever, it can be a high fever, typically up to 102 or 103 is considered a normal response. They might just see more fussy. So babies are going to show them a little bit differently. But some may not have any symptoms at all," said Dr. Coming Hay.
Vaccine availability is an ongoing question for many parents. Dr. Coming Hay gives advice to parents looking for infant vaccines.
"Other options, besides clinics, are going to be your local pharmacies. Your local health department is a great resource. There also is a website, it's called vaccines.gov, you can type in your zip code, and it will give you the different locations that you can get an immunization. And you want to make sure to double-check with some of these places that they are going down to the six-month age, some of them are only going five and above, as well," Dr. Coming Hay
The vaccines.gov website reminds users that vaccines for ages 6 months are being shipped daily and to frequently check back if you did not see any options in their area.
As of right now, only Pfizer-BioNTech and Moderna have been approved for ages 6 months and older. Johnson & Johnson and the Novavax are only for those 18 and older. A primary series for anyone younger than age 50 is two vaccinations, plus one booster, with exceptions made for those with compromised immune systems and chronic health conditions.
As for future vaccines, Dr. Coming Hay says they're expected, but it's hard to know when.
"There's talk about coming out with a new vaccine that's more directed to the omicron variant but right now it's sort of just talk. We don't have a timeline on when new vaccines are coming out. The vaccination that we have right now is targeted toward the alpha variant and so you may know that there's people out there who are getting vaccinations and then they are still getting infections. The good news is that they're typically less severe and right now the goal is to decrease hospitalizations." said. Dr. Coming Hay.
Dr. Coming Hay leaves with a note on why the vaccines remain important for many Native people's health and values
"Native Americans are at an increased risk for severe illness and complications. Especially, unfortunately, there's a lot of other conditions such as diabetes that do run rampant in our Native American populations, which puts people at even further risk. So I would just say, you know, to try to talk to your loved ones from a perspective of wanting to be helpful, wanting to protect our elders or people who may not be able to get their immunizations by themselves. We're trying to protect a community.
Emma Needham reporting for the MN Native News Health Report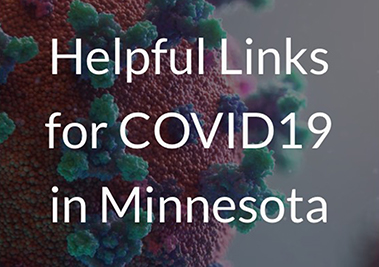 Subscribe to Minnesota Native News in your favorite podcast app