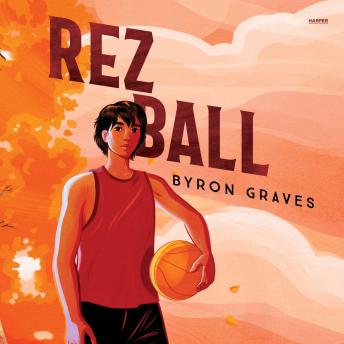 This week, a new novel called Rez Ball uses basketball to tell the story of an Ojibwe teen on the Red Lake Reservation. Reporter Emma Needham interviewed author Byron Graves about this coming-of-age book.
Marie Rock : This is Minnesota Native News. I'm Marie Rock. This week, a new novel called Rez Ball uses basketball to tell the story of an Ojibwe teen on the Red Lake Reservation. Reporter Emma Needham interviewed author Byron Graves about this coming-of-age book.
EN: The Red Lake Warriors Basketball is well known, but not because they are the best in Minnesota. The Warriors, and other tribal teams, are known for playing a specific type of basketball called Rez Ball. Rez Ball is also the title of a debut, young adult novel. Author Byron Graves explains what Rez Ball the sport is:

BG: Rez Ball is poetry in motion. It's a Zen state of mind. It's not controlled, other brands of basketball, you're setting up a play, you're moving a certain way. You're doing things in Orthodox manner. Rez Ball is creating in the moment, it's like rep freestyle. So nobody knows what's going to hit up, hit them at any moment your opponent doesn't know.
The novel Rez Ball was released on September 12th, and isn't just about Basketball. Author Byron Graves shares about the other experiences he wrote into his book.
BG: It's a coming of age story of a Ojibwe teenager going into his sophomore year. He has big dreams of becoming the next big basketball star. His brother had recently passed away, and he was the best basketball player that the reservations ever seen. And everybody expected him to go to a D1 school, maybe even go to the NBA, they were all hoping he would be the one to lead them to their first state tournament. And his brother, unfortunately had passed away in a car accident about a year before. So the main character trait, he is navigating the grieving process, seeing his community and family and friends and teammates also mourn. And also just trying to be a teenager who's falling in love for the first time trying to figure out who he wants to be as a person and trying to fulfill his own Hoop Dreams. So he's navigating all of those different things as a 16 year old, and you end up rooting for this kid. So it's kind of just a beautiful story of working your way through the hardships of life, while also pursuing a dream.
EN: Basketball holds a special place in the hearts of Native people nationwide. Graves shares why he chose basketball to tell this story.
BG: Basketball amongst Indian country, if you will. I think that's like the thing we all can rally behind. We all so many of us, I say we all I know, a lot of us who love basketball.
BG: I remember like several years back when the Schimmel sisters were making their final four runs, how exciting it was, for all of us across the country, to see them on TV, and they were just killing it. And I remember hearing even like some of the announcers saying, well, they play a style of basketball called red ball. And I know like it was both a beautiful moment and also kind of a cool, funny moment. You know how Indian humor is like, we can think something's like awesome and kind of be chuckling about it at the same time. So that's why I picked basketball to tell the story.
EN: It's no secret that life on the Reservation differs from what most Minnesotans experience. Graves says he wanted his novel to express those experiences and help people heal.
BG: I wanted to tell a story of what was different about trying to make it as an athlete, and a Native American athlete. I feel like we have our own unique trials and tribulations. And it's never just one thing, or one of us, you know, three of your teammates, positive, your teammates, all of your teammates are all going through things that can be some extreme hardship. And how does that then reflect on the court when you're playing a game against maybe, you know, different community that maybe has it a little bit better.Or how does that affect the way you train the way you play your mindset in a game. So I was trying to capture some of those unique challenges that Native American youth face when chasing their dreams.EN: Rez Ball is available at many local bookstores and most major retailers. There is also an audiobook available online. Graves says to watch for his next novel set to release in Fall 2024.
For Minnesota Native News, I'm Emma Needham.
More from Native Lights
Subscribe to Minnesota Native News in your favorite podcast app