About one in five American adults are having health problems long after first contracting COVID-19. This week, learn more about these post-COVID conditions and how doctors are diagnosing them for effective care. Feven Gerezgiher reports.
In Minneapolis, internal medicine physician Tanya Melnik is fighting the illness with many faces: long COVID.
It's also known as post-COVID…and long haul, chronic, or post-acute COVID. The one thing about it, is that it's hard to define.
"There is really no one discrete picture that would describe what long COVID is. It looks different for each person who unfortunately ends up suffering from it. Some symptoms are fairly common and they tend to be fatigue, cognitive difficulties that many people describe as brain fog, shortness of breath, rapid heartbeat, issues tolerating physical activity. Many other symptoms tend to be fortunately less common, and the diagnosis is really based on fairly extensive history when we evaluate patients that has to be collected," said Dr. Melnik.
Dr. Melnik is co-director of the M Health Fairview Post COVID clinic, one of many formed in 2020. Physicians across the country had noticed patients were not completely recovering from COVID or they were developing new symptoms.
Long covid symptoms have a lot of overlap with conditions like chronic fatigue syndrome, so Dr. Melnik says diagnosing it is a process of elimination.
"We take into account what kind of problems patients had before having COVID, what their COVID looked like because unfortunately, post-COVID is more common in people who had moderate and severe disease who ended up being hospitalized or ended up on a ventilator in the ICU. And how those symptoms evolved over time, what got better, what didn't get better, and what potentially got worse and started anew.," said Dr. Melnik.
It depends on how you define it, but studies estimate between 10 to 30% of people develop lingering symptoms within three months of having the COVID virus. Current data shows women are significantly more likely to develop long COVID than men.
If you suspect you have long covid, Dr. Melnik says you should talk to your primary care provider. She also recommends connecting with a post-COVID clinic for specialized care, though she recognizes it's not always the most accessible.
"One of the things we know works for post-COVID is actually rehab, physical therapy, occupational therapy, respiratory therapy. Sometimes people do need evaluation with pulmonary function testing, they need to see cardiology; they need to have some studies done to evaluate the heart and lungs. And that's not necessarily easy for somebody who lives in a rural community and doesn't have substantial means to even to pay their co-pays for all those visits. So it's difficult. And we know that post covid, it can be disabling, so if a person cannot work and cannot get the help that they need for a variety of reasons, they're stuck," said Dr. Melnik.
Dr. Melnik acknowledges the progress since 2020. Long covid is now recognized as a disability under the Americans with Disabilities Act. Research studies are underway on how to better treat the condition…But she says one sure way to prevent long covid, is to not get covid in the first place.
"One thing that we have seen is vaccination definitely reduces the risk of a person developing post-COVID condition. It hasn't been 100% and vaccines at this point do not reduce the risk of COVID to 100%, but there is a significant reduction in terms of the risk of severe illness with vaccination, and we have seen with some relief that people who are vaccinated and boosted actually are less likely to develop post-COVID. So that's another good reason to be vaccinated and be up-to-date on boosters," said Dr. Melnik.
Find a more extensive list of long-covid symptoms, as well as information on where to get your COVID-19 vaccines, on our website MinnesotaNativeNews.org/Health
For the Minnesota Native News Health Report, I'm Feven Gerezgiher.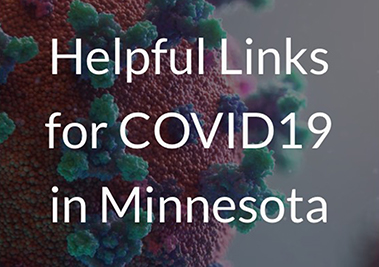 Subscribe to Minnesota Native News in your favorite podcast app