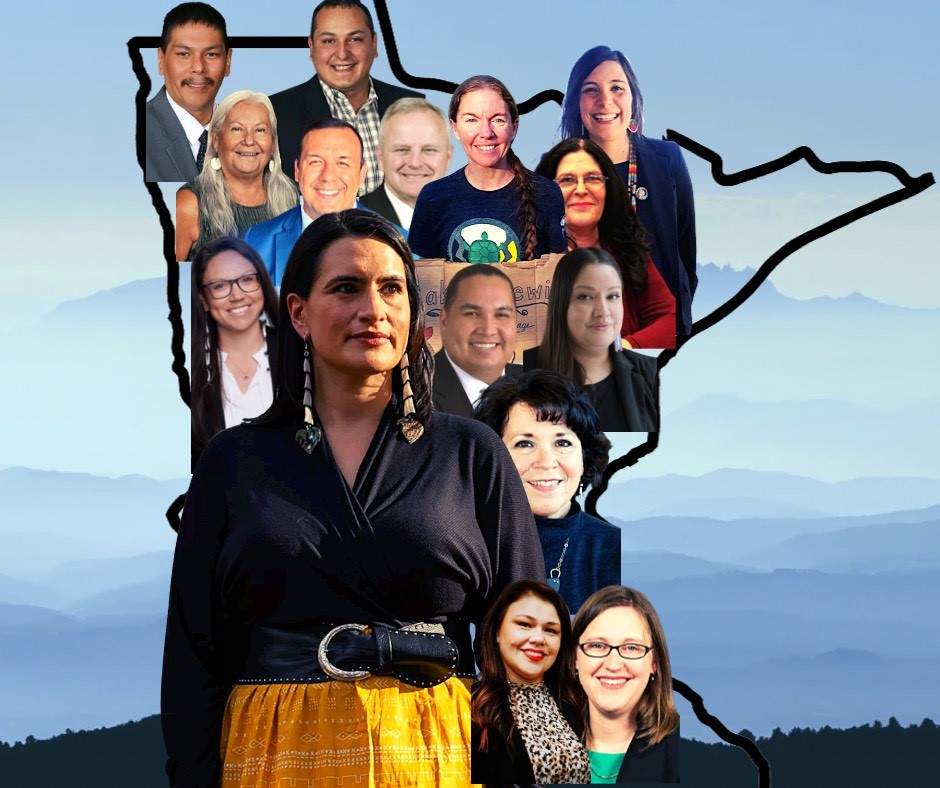 This week on Minnesota Native News, Emma Needham talks with new and returning Native Candidates from Mid Term races across the state.
In the 2020 election, Native voters came out to the polls nationwide at rates never seen before. According to the Associated Press, Native voters swung the elections in both Arizona and next door in Wisconsin.
Now, the 2022 Midterm elections are in just under 2 weeks, and it's apparent that this time, Native people have turned out to the polls in a different way: On the ballot.
ICT, formerly Indian Country Today, tracks the number of native candidates running for offices at the state level. Right now, Oklahoma has the most, with a stunning 18 candidates for house or senate seats and one in the governor's race. Montana comes in second in the nation with 12 Native candidates, while Hawaii and Alaska both boast 10. Here in Minnesota, there are 7 candidates for house or senate seats in six districts, plus the incumbent lieutenant Governor, Peggy Flanagan. Of those 8 Candidates in Minnesota, seven different Native Nations are represented.
Alicia Kozlowski is running for State Representative in MN House District 8B in Duluth. Kozlowski is Ojibwe from Grand Portage and Fond Du Lac and is also a third-generation Mexican American. They said that their decision to run for office came not only from values in their upbringing among strong Ojibwe and Mexican women, but also from a sense of deep responsibility to their community.
"When I was making the decision to run or not it, it actually was in response to my community members, both within the tribal nations. But here in Duluth, across neighborhoods, across race, and gender and age, and ability of people saying 'please run for office.' Like, we need you to meet this moment so that we can all meet this movement," said Alicia.
Alicia Kozlowski is a unique candidate to northern Minnesota. They said that they are running for office to amplify Minnesota voices.
"We have never had anybody like me represent this district, as a Native, as a Latino, as a non-binary, as a member of the LGBTQ community, but then even more, so to be able to bring that to the capitol where we haven't had non-binary representation." They said, "I'm running for office, not just for myself. In fact, I'm a very reluctant candidate to run for office, I'm running because I want to what I say is CO govern with our people…
I'm not here to be anybody's voice or anybody's power, because you already have a voice and you have power. I'm here to help create that space and to amplify and to uplift all of our people."
In Minnesota, we have Native candidates running for office at the state level, but we also have Native candidates in local races, including the city council race in Bemidji and candidates for school board both in Minneapolis and in Brainerd.
Charles Black Lance is White Earth Anishinaabe and Lakota from Rosebud Nation. He's currently the vice chair of the Brainerd School Board for ISD 181 where he's running for another four-year term. Black Lance says that the teachings he received from his father helped guide him in his position.
"My dad always told me, my brother and my sister are very young age was that leadership wasn't necessarily something that you aspire for, but more of a burden or something that is, was placed upon you as a responsibility. And, and I took that to heart," He said, "fought hard and worked hard and diligently to not have power. but to have or wield influence, to be heard, and to have that voice. And I think it's really important for all indigenous people to move in that direction."
In addition to Peggy Flanagan, other Native candidates in the Minnesota race are running for reelection in the house and senate. Senator Mary Kunesh served two, two-year terms in the MN House and one two-year term in the Senate. Senator Kunesh is now up for re-election for a four-year term in Senate District 39 following redistricting. She told me why she ran for office all those years ago.
"I knew that if we wanted to make good change in Indian country in Minnesota, we needed natives there to move the ball to start talking about the issue to start, you know, really championing the issues." said Mary
Senator Kunesh is the first woman of native descent elected into the Minnesota Senate and currently the only Native person serving there. She says that there's much work to be done to build diversity in the Minnesota legislature, but she is glad to see more Indigenous candidates running for office.
"We just don't have that kind of diversity in our state Senate. And that means we are not representing the growing diversity of our communities. We do want to see legislators that look like us, that sound like us, that understand the unique circumstances. And I'm really thrilled by the number of candidates and the caliber of these candidates, because it can only bode well for Minnesota when they are elected," she said.
For Minnesota Native News, I'm Emma Needham
Follow Emma's complete midterm coverage with Native Roots Radio on Rock the Vote Native Style
See ICT's complete list of Native candidates from across the country: https://indiancountrytoday.com/newscasts/10-26-22-native-candidates-update
Subscribe to Minnesota Native News in your favorite podcast app